Madbeth
MADBETH – A Physical Comedy
One of the most tragic stories told in a unique hilarious manner
One man, One throne, One crown, One hilariously tragic experience. Amidst thunder and lightening, three witches meet with Beth and Banquo, from there on Beth tries his best to live up to all the prophesies with his imaginary friend Banquo. Together they narrate this murderous tale sincerely.
Welcome to a roller coaster ride in the world created by Beth and Banquo. The Tragedy of Madbeth is a highly interactive physical comedy inspired by Shakespeare's classic. A profound allegory that dissolves the space between observer and performer. The performance is a combination of slapstick, acrobatics, mime, songs and improvisations.
Madbeth is a devised theatre piece. It has been played for a wide range of audience in Europe, Israel, West Bank and India. The play was invited by UNESCO Centre for Peace to tour in USA (2012). The performance was a special pick at the Stockholm Fringe festival 2013. Prague Shakespeare Company hosted the performance (2013) at the National Theatre, Czech Republic. In India, it has been very well received in Delhi where we have done seven shows at Alliance de Francis, New Delhi this year uptil now. The play has also been performed at the following prestigious locations this year :
- Rangshankra, Banglore
- Prithvi Theatre, Mumbai
- NCPA ( Experimental theatre ), Mumbai
- Canvas Laugh Club, Mumbai
- Company Theatre Festival, Pune
Duration: 75 minutes
Suitable age: Above 10 years.
Rupesh Tillu is an actor, director and independent film-maker, born in Mumbai India. He holds MFA in Physical Comedy from The National School of DramaticArts, Sweden. He has received several international theatre awards such as Outstanding Artist/Act- Stockholm FringeFestival 2012, A Special Jury Award- Best of Prague Fringe Festival 2013 and many more. His debut documentary feature film 'The Living Gods' is co-produced by the Swedish National Television, which premiered in March 2014 at FIFA, Canada. He played the character of Ajay in a feature film Ship of Theseus and also line produced Swedish schedule for the same film. He is the founder and artistic director of Theatreact.
Rupesh Tillu produces works of theatre that deals with international issues and have a
universal appeal. He believes in experimentation and innovation that can challenge the creator as well as theatre as an art form itself. Theatre that is provocative and can stimulate the imagination and raise questions for its audiences.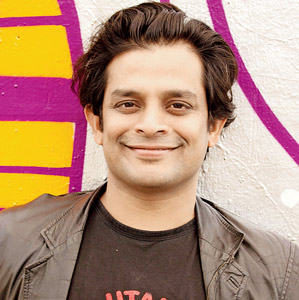 Written and Performed by:
Rupesh Tillu, Supported by Kalyan Choudhary
Article about Rupesh and Madbeth in Indian Express, Mumbai :
http://indianexpress.com/article/cities/mumbai/the-progress-of-an-actor/